The sun is a minor character in
The Fabulous Land of Bubblegum
.
Her first appearance was in
The Start
when she got "mooned" by
the moon
. Sometimes, she doesn't speak but notices objects that come near her, as shown in The Cloths. The sun also has the ability to speak and travel around the world at high speeds as seen in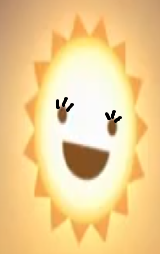 The Dance, and usually goes to sleep when night comes.
Voice: Nigel Pilkington.
Ad blocker interference detected!
Wikia is a free-to-use site that makes money from advertising. We have a modified experience for viewers using ad blockers

Wikia is not accessible if you've made further modifications. Remove the custom ad blocker rule(s) and the page will load as expected.